Layton ServiceDesk - Settings - Libraries - Change Statuses
From Layton Support

Previous article in this series: Problem Statuses
Overview
A Change Status identifies the stage or status of a Change. There are two statuses, Continue, which means open, in progress, not yet completed, and Completed, which signifies that the Change has been concluded.
For more descriptive Change Statuses based on these two states, we provide the mechanism to create appropriate names such as Completed, Failed,Reviewing, Testing, In Progress, Cancelled, or .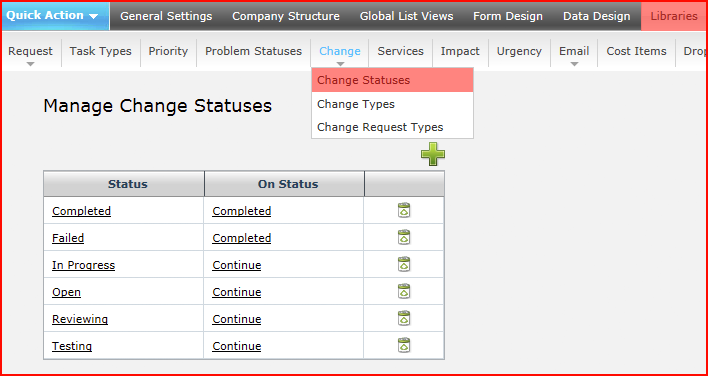 Adding a New Change Status
Click the Add button

. The Add Status dialog will open.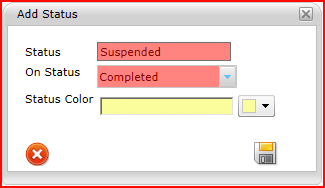 | Setting | Description |
| --- | --- |
| Status | The descriptive name of the status that will be visible in the interface. |
| On Status | The actual status |
| Status Color | The color that will be applied to the Change in Change List View. |
The default Status for all Changes is set to Open but can be changed in Administration > General Settings > Change Settings and set the Default Status. Once a Change is recorded you can change the Change Status by clicking the Change Status Button

on any of the Change List Views or clicking the Change Status Button
on the Change form.
Deleting a Change Status
Click the Delete button

next to the Change Status you wish to delete.
Next article in this series: Change Types