Layton ServiceDesk - Workarounds - Global Assign to Specific Analyst Group
From Layton Support
The Problem
There is no way to set a default Analyst Group to which all requests, from email, end-user web interface and manual creation by analyst. A feature request has been lodged regarding this.
The Workaround
We can use Request Business Rules to achieve this. The key is to choose a piece of information that will be common to all incoming requests. I have chosen the Request Class IT Incidents, which is the name of my default Request Class. Any requests submitted by end users through the web interface, as long as they are this Request Class, will be auto-assigned to a particular Analyst Group. Here is the Default Request Class setting:


Note that although the Analyst Group will be set, the Take Assignment button

will still appear in list view until an individual Analyst takes assignment.
Procedure
1. Go to Administration > General Settings > General Auto Assignment Options.
2. Set Default Group for Email Auto Assignment to the desired Analyst Group. That covers auto assignment to requests coming in via email.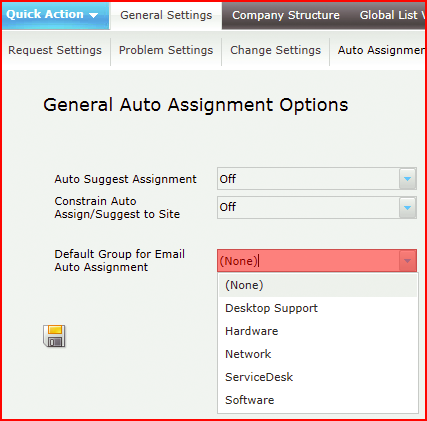 3. Go to Administration > General Settings > Request Business Rules.
4. Click the pluss button

to open a new rule.
5. Here are the settings: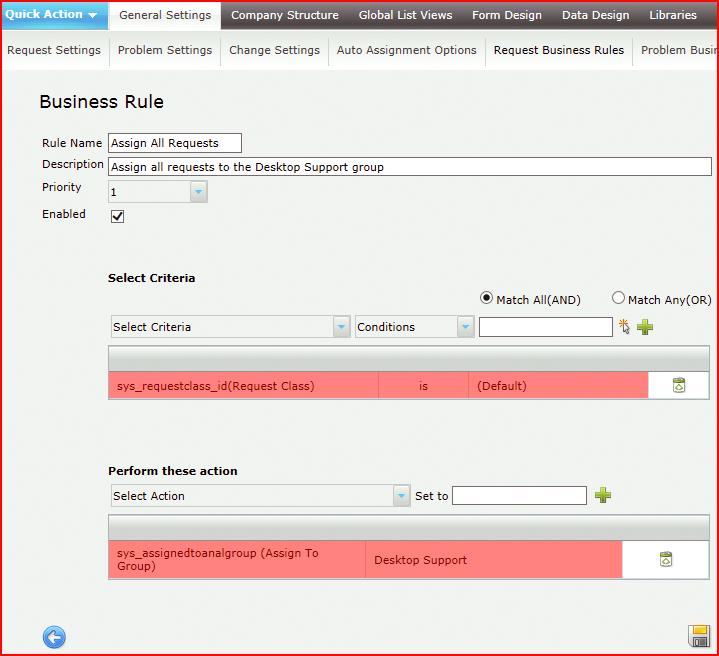 6. Click the Save button

.
Related Articles