Layton ServiceDesk - Installation - Which Method to Use
From Layton Support
Overview
The process to move to Layton ServiceDesk software from HelpBox is very simple. You will not lose any data in HelpBox and you can be up and running with Layton ServiceDesk with the absolute minimal downtime. Switching over systems from HelpBox to Layton ServiceDesk software can be done in a matter of minutes with minimal disruption to your live Help desk.
Flowchart
This flowchart gives a simple overview of the various potential processes to get you started.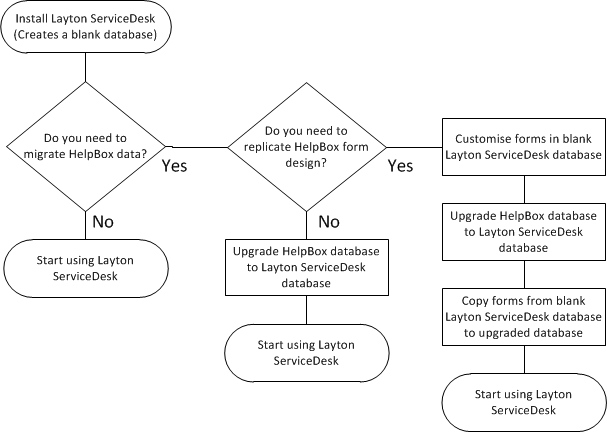 Database Tool
The Layton ServiceDesk Database tool is a small utility that will run when you first install Layton ServiceDesk.
Layton ServiceDesk Database tool can perform the following actions.
You can run the Layton ServiceDesk Database utility at any time by going to Start > All Programs > Layton ServiceDesk > DBTool.exe
Answer one of the below questions to determine which set of instructions you will need to follow.