Layton ServiceDesk - Utilities - Clear Down Database
From Layton Support

Previous article in this series: Purging
Overview
The Clear Down Database function clears out non-configuration data in the database so that the system can be started afresh. This is intended to be used when the system has been evaluated and the user wishes to start again for a live system. Any Form Designs and Global List Views that have been configured will not be affected.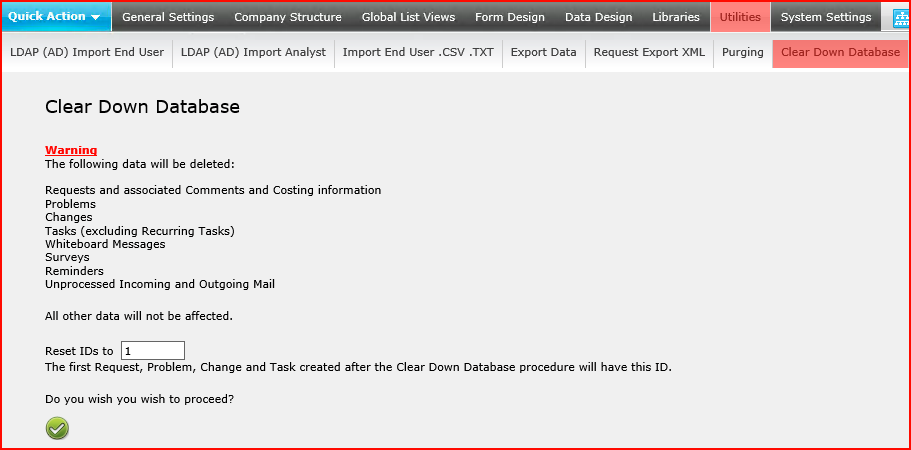 Data Deleted
Specifically, this will delete the following:
All Requests

Associated Comments
Associated Costing information

Problems
Changes
Tasks (excluding Recurring Tasks)
Whiteboard Messages
Surveys
Reminders
Unprocessed Incoming and Outgoing Mail.
All other data will not be affected.
Procedure
Be sure you are ready to delete the data in your database prior to doing this procedure. You should consider firstly backing up your database in case you need to recover the deleted data.
Log in as Admin. No other account can do this operation. If logged in as other accounts, an error will display.
Optional: Enter a value in the Reset IDs to field. The default is 1. The first Request, Problem, Change and Task created after the Clear Down Database procedure will have this ID.
Click the Confirm button .
When the operation is complete, the message Database Cleared will appear.