Layton ServiceDesk - Configuring the System - Searching
From Layton Support
Requests, Problems, Changes, Tasks and Surveys can all be searched for using Main Menu | Search. The Search sub-menu will have different Search icons for the Requests, Problems, Changes, Tasks and Surveys. If the Problem & Change function is disabled the Search icons for these two items will not be displayed.
Each Search screen will show the default form however the criteria and screen can be modified using Administration | Form Design. Figure 22 shows an example Search Requests form.
The Search Request screen displayed will allow you to search for Requests on any criteria or combination but if none is entered then all Requests will be displayed. The list view of Requests can be sorted by selecting the appropriate column headings. Requests are selected to view in detail or by selecting any data field against a Request.
If a Memo/ Large Text type field is placed on the search form the system will perform a "fuzzy" match of that field rather than an exact match.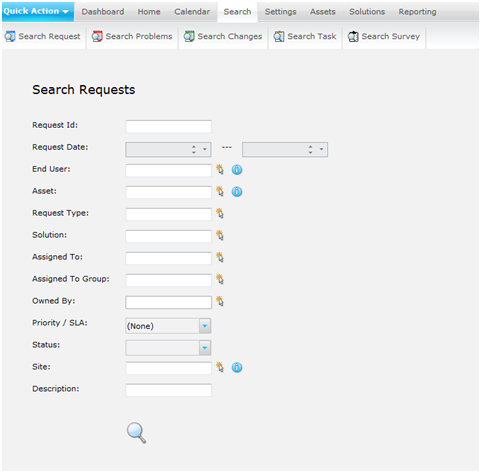 Figure 22 Search Request Screen