AuditWizard - Release Notes - AuditWizard 8.1.3
From Layton Support
New & Enhanced Features
Brand-New Dashboard Module
New Features
New drillable Asset by Type and Manufacture chart: The new summary chart is a significant feature in that it gives you an instant snapshot of your IT assets by type and manufacture. You can drill down into the chart to further filter the data and you can even filter by location by selecting the location from the drop-down list.
Enhanced Features
Task List: The Calendar/To-Do list has now been completely re-designed to be purely a task-only list as opposed to a calendar-type facility. By displaying tasks in a list, it is easier to manage your day-to-day tasks. In addition, tasks have been moved the ribbon so there is more room for easier viewing:


Please note: If you have any entries in your existing calendar, they will be lost when the upgrade is completed. You will be required to re-create them in the new task feature. We apologise for any inconvenience this may cause.
Export Audit History: When you drill down through the statistics in the left hand pane on the Dashboard you can now export the data to PDF, XLS etc.
Option to hide "Update Status" for asset in the Application News Feed: By default, when the asset was updated, an entry was made in the application news feed. There is now an option to turn off this feature. To change this setting click Application News Feed Properties under the main Dashboard.
Network View
New Features
Display asset counts in the network view: You can now get a quick visual summary of asset counts for each site
assets in the network view. This feature was previously available in v7.


Enhanced Features
Scanner Type to Summary pane: Under the network summary the audit status window now displays which scanner type was last used to audit the asset, e.g. AuditAgent, AuditScanner, SNMP etc.
Application Licensing
Enhanced Features
Edit Multiple Applications at the same time: You can now edit multiple applications at the same time, such as assigning
licenses. Select and highlight as many applications as you want (in the right-hand pane) in the Application License Tab, right-click and select New License. The new license type will be applied to all applications you have selected.
Aliasing Operating Systems: You can now alias operating systems.
Aliasing Software Publishers & Enhanced Aliasing of Applications: You can now Alias Software Publishers as well as Applications, all from within the Application Licensing tab. This new option is now is a fast, effective way to manage multiple applications or publishers with similar names or version numbers. To access Aliasing Applications and Publishers, select the options via the main ribbon in the Application Licensing tab: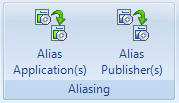 Brand-New Reporting Module
New Features
SQL Server Query Report: A new advanced option has been added for experienced SQL Server users who are familiar with running SQL Server queries. You can now execute any SQL Server SELECT query in the new SQL Server Query Window and save the report.
New Application Licensing Report: You can expand the report data to show which asset the software is installed on.
New Audit Trail Report: This new report shows all the hardware and software changes on the asset between audits and is located under Asset Management Reports.
Enhanced Features
Edit Custom Report: You can now edit custom reports, where previously you had to delete and re-add the report.
Schedule Custom & Compliance Reports: You can now schedule custom and compliance reports. In addition, all schedule reports are now created, edited and deleted within a single window. Select the Schedule report icon on the main ribbon to schedule reports.
Drillable Results from the Grid view: Once a report is run, it is now possible to drill down further to take you directly to the asset in the network view. This feature is also available from the dashboard view for audit history. Once you have drilled through on a graph in the reports, you can drill through to the asset in the network view by double click this symbol: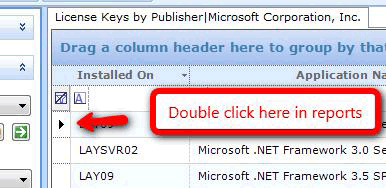 Location Filter: You can now very easily filter all reports based on the asset location. A Global Location Filter is available on the main ribbon. This setting affects all reports:

Bug Fixes
364 Aliasing of Application causes an incorrect install count in reports.
412 Server disk space was not refreshing for other servers on the network when you selected another server from the drop-down list.
412 A bug in the processor speed report occurred occasionally when you drilled down through the data chart that no data was displayed.
420 When an asset was set as disposed the license was still being counted in reports.
422 When viewing AlertMonitor log or AuditAgent log the window border was not visible.
443 Can't Add More than One User-Defined Category to Report.
445 Some reports were not able to run under SQL Server 8.
457 The application news feed is now set to auto-purge after 1000 rows of data.