AuditWizard - Using AuditWizard - Administration - General - AuditWizard Services
From Layton Support

Previous article in this series: Users and Security
Overview
The AuditWizard Service is a Windows service which is responsible for a number of background activities such as auto-uploading the results of software discovery operations as they appear within the nominated data folder and sending out emails both on a periodic scheduled basis to inform you of your current licensing situation and also to alert you when such things as support contracts are due to expire.
This service is important to the correct operation of AuditWizard and should not be stopped unless required because of a configuration change or an upgrade of AuditWizard is to be applied. Because of this requirement, AuditWizard should be installed on a server. A workstation or laptop may not always be available.
The service will be started as part of the initial Discovery wizard and will subsequently be started when Windows is started. The Service Control functions should rarely be required however they are detailed here for completeness.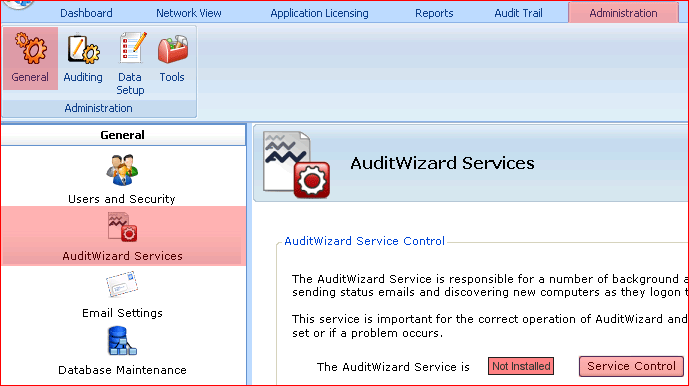 Service Control
To control the AuditWizard Service, click the Service Control button. The following dialog will be displayed: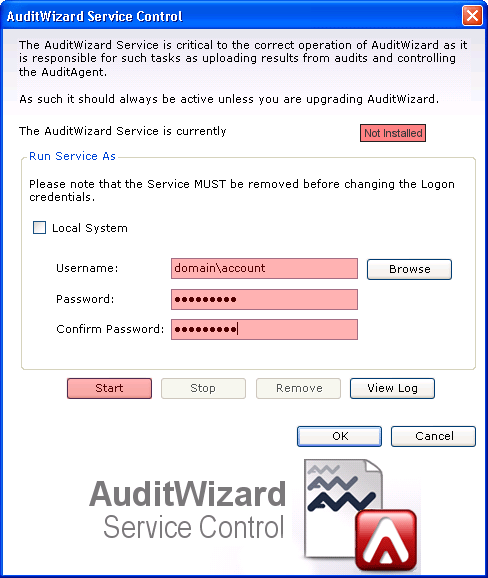 Local System can be used but this will not have the necessary permissions to deploy the Agent. You should use a domain-user account with these permissions.
Click the Start button to install and start the service. The status in the upper part of the dialog should change to Active within a few moments. Click the OK button to close the dialog.
Log
A log for the service can be accessed by clicking the View Log button in the Service Control dialog. The log is the file aw_svc.log in C:\Program Files (x86)\AuditWizard v8\logs\.
Next article in this series: Email Settings