AuditWizard - Using AuditWizard - Administration - Data Setup - License Types
From Layton Support
This form allows you to define the types of licenses which can be assigned to an application. License Types may be declared as "counted" or "not counted".
Where a counted license type is being created, you will need to enter the number of individual licenses purchased. An example of a counted license would be a retail license where you need to purchase an individual license for each instance of the application which has been installed.
An uncounted license is one where the license will apply to all instances of the application. An example of an uncounted license would be an Enterprise or Volume license which is valid for all instances of an application within the organization.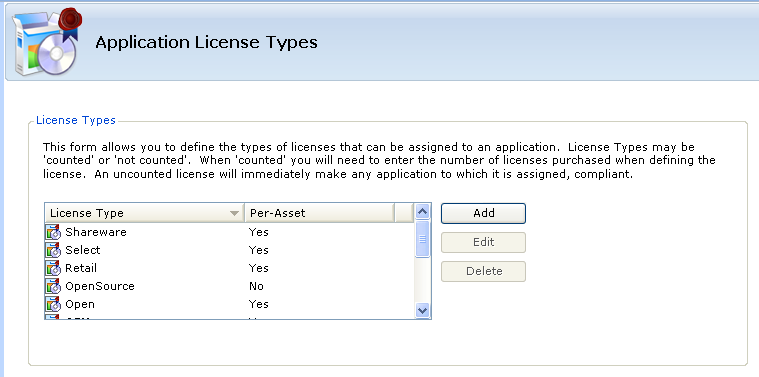 A number of license types have been pre-defined within AuditWizard however you can modify or extend this list here. Click Add to begin the definition of a new type of license. The following window will appear: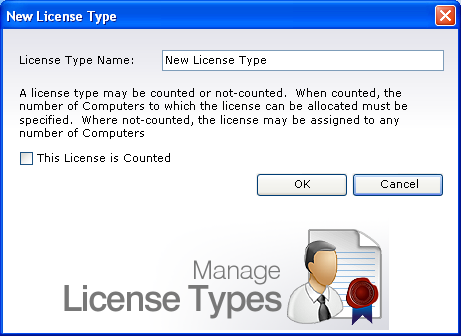 Enter a new, unique name for the license type and determine whether or not the license will require a count. Click OK to complete the definition of a new license type and return to the License Types view.
The properties of an existing License Type definition can be modified by clicking the Edit button in the Administration > Data Setup > License Types view. The License Type name cannot be modified however you can change whether or not the type is counted.
Existing License Types can also be deleted by clicking the Delete button in the Administration > Data Setup > License Types view. Note that license types can not be deleted if they are referenced by any existing application licenses. If the license type is being referenced any attempt to delete it will result in an error.