AuditWizard - Installation Types - Remote Auditing - Remote Domain
From Layton Support
Use Case
Computers that are on a remote domain. You must have remote access to a server for this configuration.
Network Configuration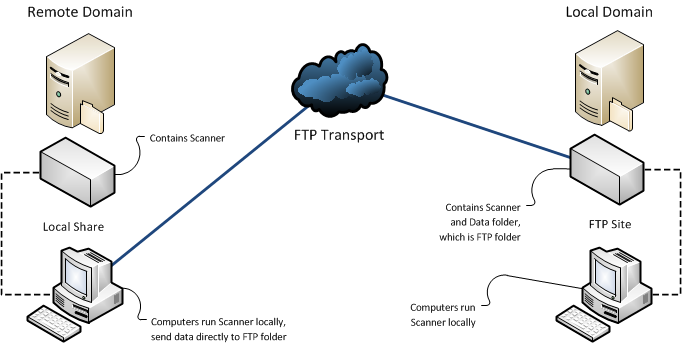 Figure: Network Configuration
Steps
Configure your FTP server on your local domain. It is preferable that the folder on the server where files will be copied is the data folder in your network share. In this way the files will be uploaded to the same location that your local network computers will write their .ADF audit files. No further moving of files prior to uploading into AuditWizard will be required in this configuration.
Log into the remote server and install AuditWizard there.
Create a network share on the remote domain.
Configure the Scanner, using the network share name of the remote domain. Use the FTP upload option, pointing to your FTP server.
How it Works
The Scanner will run locally to the user. This is a parallel system, the only difference being that the FTP upload method sends the .ADF audit file directly to your local server via the Internet and is uploaded along with audit files produced locally. No further interaction is required. You manage AuditWizard on the remote domain by logging into the remote server. This is the only way to do this on a remote domain. You will have to upgrade AuditWizard on each domain server when you do an upgrade locally.